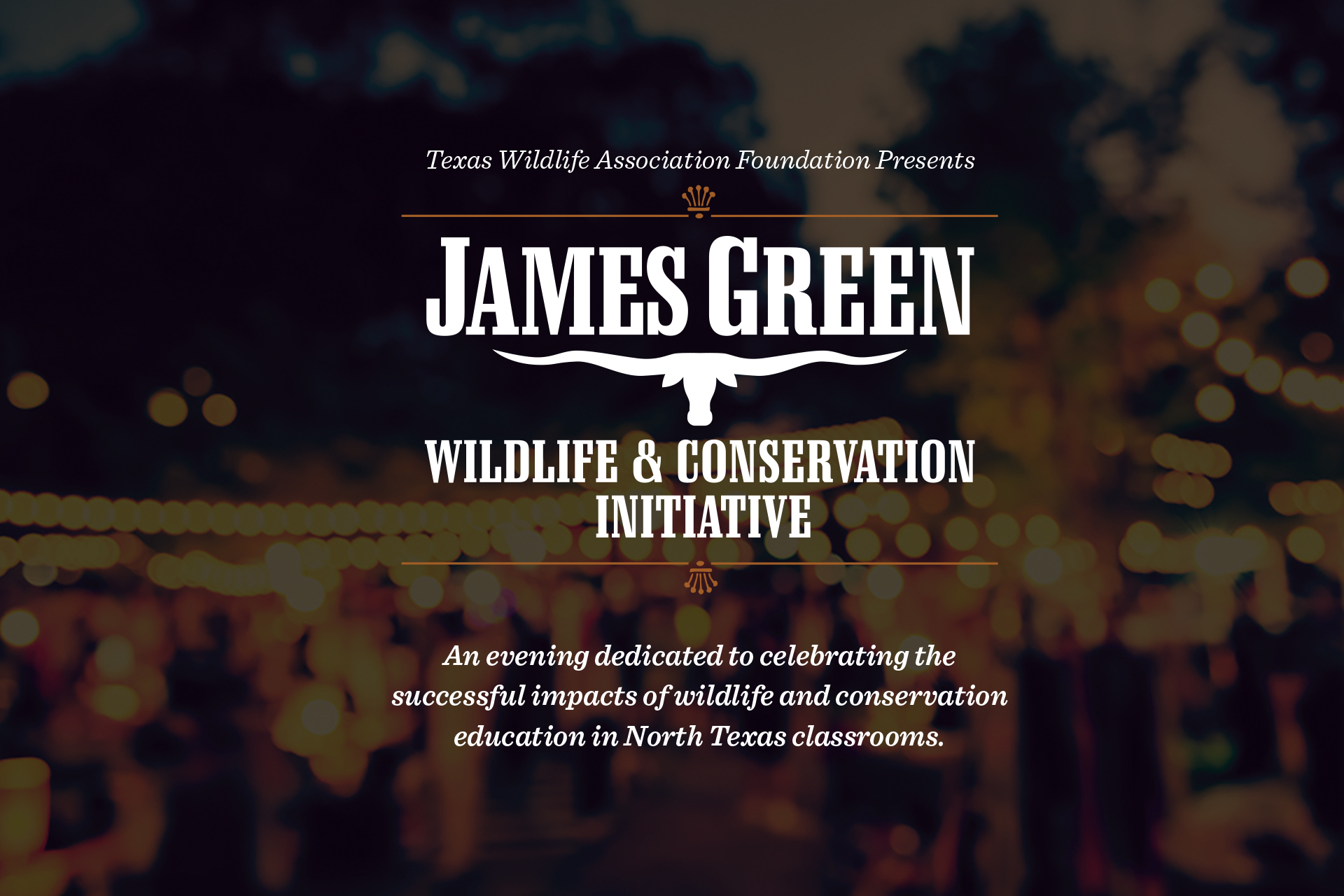 Texas Wildlife Association Foundation Presents
James Green Wildlife & Conservation Initiative
An evening dedicated to celebrating the successful impacts of wildlife and conservation education in North Texas classrooms.
Thursday, October 26th
6:30 until 9:30
Featuring Chef Jon Bonnell
4926 Crestline Road
Fort Worth, Texas
Cocktail Reception and Dinner on the Bluff
Outdoor Footwear Recommended | Valet Parking
Host Committee
Sarena & Brad Wright
Event Chairs 
Bryan Walsh
Auction Chair
Betty & Stewart Alcorn
Lisa & Peter Alcorn
Katherine & Ryan Allen
Leigh & Michael Bornitz
Toni & Tommy Boswell
Steve Brauer
Mia & Tyler Brous
Kim & Josh Carter
Catherine & Todd Davenport
Kristen & Jonathan Deweese
Philip Duggins
Ralph Duggins
Thomas Duggins
Ann & George Ferguson
Sheridan & Bo French
Margot & Kyle Goss
Laurie & Clark Kemble
Bryan King
Mason King
Riley King
Taylor & Thomas Lacy
Regan & W.A. Landreth, III
Gail & Bill Landreth, Jr.
Donna & Daniel Leonard
Meredith & Stephen Luskey
Amanda & Bond Malone
Kathrin & Mike Malone
Michael Malone
Emery & Colin McConnell
Jennifer & Grady McLeland
Pati & Bill Meadows
Samantha & J.C. Pace, III
Katie & Claiborn Peterson
Rachael & Bill Ratliff, IV
Abby & Will Rodgers
Missy & Randy Rodgers
Cynthia & Terry Siegel
Cheryl & Tom Spencer
Carly & Stephen Tatum
Nenetta & Steve Tatum
Lauren & C.B. Team
Evelyn & Bryan Walsh
Thomas Whitney
Sarena & Brad Wright
Whitney & John Wynne, II